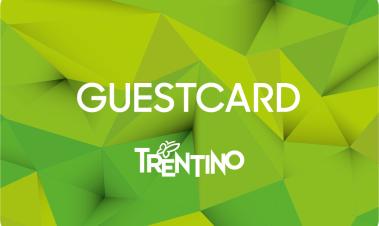 GUEST CARD
My structure offers the possibility to use the services of the Guest Card (TGC).
The Trentino Guest Card (TGC) gives many more reasons to book a holiday in Trentino. By clicking on the widget on this page you can proceed with the pre-issue, following my confirmation you will receive your TGC in digital version on your smartphone. It is a pass that makes your holiday easier and richer, with many advantages for both adults and children.
What are the benefits?
You can, for example, have our proposals at hand, book entrances and services, and access for free or at a discounted rate in the main museums, castles and natural parks. But above all, you can freely and easily use public transport, avoiding traffic and parking, get discounts in partner structures and access exclusive services such as guided tours and tastings. You can create your wish-list, plan your trip and confirm or cancel the chosen activities at any time. At the end of the holiday you can also retrace your holiday by looking at your travel diary …
N.B: after the first access you will receive my confirmation email to proceed with the complete activation of the card, this is possible only after confirmation of the reservation.